Roof Contractor West Hartford CT
DZEN Residential Roofing has served the West Hartford CT area for more than 20 years. We are known for our prompt, professional, and reliable service, and always aim to exceed our customer's expectations. Whether you need a roof repair, replacement, installation, or other roofing service, our trained experts are certified to install industry-leading products, so you'll never have to worry about a job well done.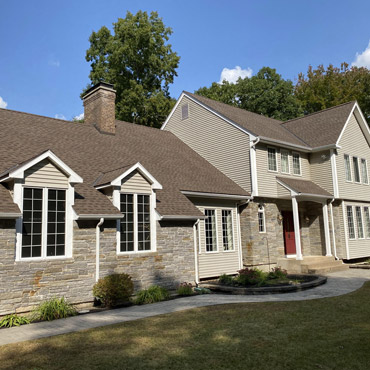 Roof Repair Experts in West Hartford
If you've got a leaky roof, cracked or missing shingles, or you can see roof damage due to storms and debris, you likely need to phone in a roof repair. Once you catch it, you'll want to get your roof fixed as soon as possible, otherwise that can lead to larger, more expensive repairs down the road. One call to the team at DZEN will ensure your peace of mind. We will get your roof repairs completed quickly and efficiently, so give us a call today for a free estimate!
Roof Replacement Professionals
When too much damage has been done, sometimes a roof repair doesn't quite cut it. Whether your roof needs a replacement due to storm damage, or you're just looking to upgrade your style, a roofing job is never something you want to do without the help of an expert. The experts at DZEN Roofing are experienced in extensive roof replacements and can help guide you towards the best options for your budget. No matter what your roofing needs are, we've got you covered.
Call DZEN Residential Roofing today for a free estimate and to find out how we can help!